Spirit Division


WELCOME TO THE SPIRIT DIVISION OF TGCA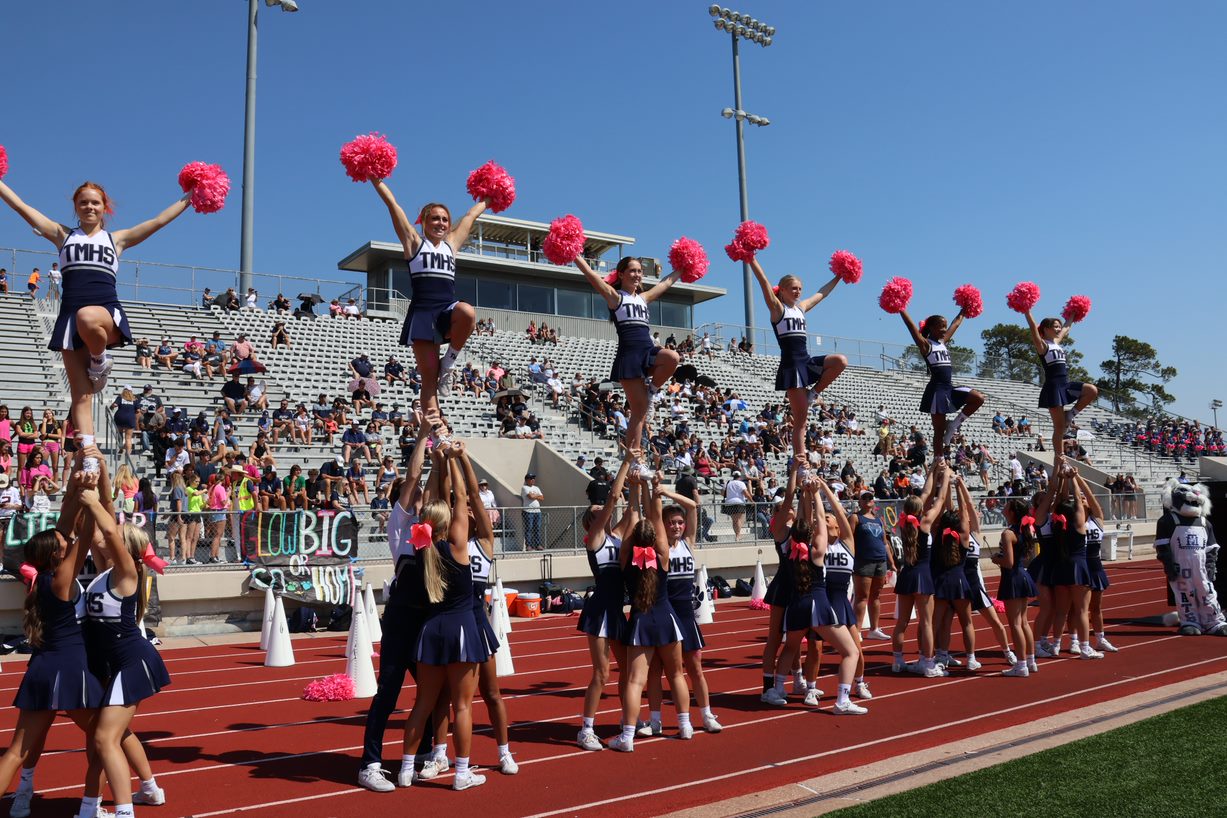 Photo Courtesy of Sarah Ellison, Tomball Memorial High School
---
CAREER WIN RECOGNITION FOR SPIRIT COACHES
Points: 300 is first level of recognition (certificate), then 400 (certificate).
Plaque recognition begins at 500 points. Hall of Fame eligibility at 1,000 points. 
                                    Years of Service at Varsity Level - 10 points per year
                                    Finals Appearances - 10 points
                                    Best of Category Wins - 15 points
                                    Third Place - 30 points
                                    Second Place - 40 points
                                    State Champion - 50 points
Congratulations to the following TGCA member coaches and their teams who will be presented State Championship rings from Herff Jones for capturing
2022-23 UIL State Championships!
| | | |
| --- | --- | --- |
| | Victoria Butler | Fossil Ridge High School |
| | Tiffany Evans | Munday High School |
| 2A | Tammy Kirchhoff & Shaw Moy | Falls City High School |
| 3A-D1 | Sawyer Cunningham | Mount Vernon High School |
| 3A-D2 | Jaci Pippen | Jacksboro High School |
| 4A-D1 | Leslie Jedlicka & Lindsey Minyard | Mabank High School |
| 4A-D2 | Katy Baugh | Lago Vista High School |
| 5A-D1 | Kerri Yee | Friendswood High School |
| 5A-D2 | Taylor Bailey | Alamo Heights High School |
| | Sarah Ellison | Tomball Memorial High School |
| | Alex Saenz | Paschal High School |
Congratulations to the 2022-23 TGCA All-Star Coaches
1A-2A-3A-4A RED
Julie Hall - Celina High School

1A-2A-3A-4A BLUE
Kelly Lipsey - Ballenger High School

5A-6A RED
Candace Dozier - New Braunfels High School

5A-6A BLUE
Kyra Scopel - George Ranch High School

---
CHEERLEADING UIL UPDATES
Cheerleading and Spirit Group updates have been issued by the UIL. Click here to read the updates.
---
CHEERLEADING SAFETY FAQs
Click here for some commonly asked questions and answers regarding cheerleading safety, provided by the UIL.
---
CHEER INFORMATION - UIL RULES AND STATE LAW
Click here for a cheer presentation regarding UIL rules and state law, issued by the University Interscholastic League.
---
CONCUSSION TRAINING
ONLINE CERTIFICATION
H.B. 2038 Requirements
The Texas Girls Coaches Association, in partnership with Texas Health Ben Hogan Sports Medicine, is offering, FREE OF CHARGE, the training required by H.B. 2038. Coaches were required by state law to complete two (2) hours of concussion training no later than September 1, 2012. In addition, coaches are required to complete two (2) hours of additional concussion training every two years. The Texas Health Ben Hogan Sports Medicine group is certified through the TEA and approved by the UIL to offer the concussion training course. Through the website of the Texas Girls Coaches Association, this course is being offered online at no cost to all coaches. A test must be passed at the completion of the course. If the test is passed, the coach will then be able to print a certificate of completion that can be filed with their school. Please proceed to the following link to begin the training. Once you have accessed the link, click on "Texas Coaches Concussion Training".

http://www.texashealth.org/sportsconcussions
---
INTRODUCING THE TGCA SPIRIT DIVISION
TGCA is pleased to announce the addition of the TGCA Spirit Division to the TGCA umbrella. We are very excited about this addition. We welcome our cheer coaches to the TGCA fold. There are many, many reasons for cheer coaches to become a member of the Texas Girls Coaches Association. Here are just a few:
1) It brings you under the umbrella of the TGCA name and reputation.
2) You will receive the invaluable injury prevention training that is now being required, along with various general lectures on many topics, and including hands on workshops at the Spirit Division Summer Clinic. TGCA is certified by the UIL to offer the injury prevention training now required.
3) TGCA offers honors for All-Star, All-State, Academic All-State, Cheerleaders of the Year and Coaches of the Year to those cheerleaders and their member coaches who meet the TGCA criteria, which gives an opportunity to honor cheerleaders for their accomplishments. Also, UIL State Champion coaches who are members of TGCA by the November 1st deadline will be presented state champion rings courtesy of Balfour at the annual TGCA Honor Awards Banquet during Summer Clinic.
4) You are automatically afforded a $4,000.00 Accidental Life and Dismemberment policy through American Income Life Insurance Company at no cost to you.
5) You are afforded personal representation before the UIL and the state legislators on matters affecting all member coaches under the TGCA umbrella.
6) You will receive a TGCA membership card, which will allow you access to most sporting events, depending on the venue and district rules.
7) We do an on-line Newsletter publication that runs from September until May that features photos and articles and important information to all of our coaches. Cheerleading is featured in the January issue each year.
8) We offer a Job Placement Center only for our member coaches that is on-line through the Membership Site.
These are just a few of the reasons why becoming a member of TGCA will benefit you. Should you have questions, or if you would like more information, please contact us at 512-708-1333, or by e-mail at tgca@austintgca.com.
---
INSTRUCTIONS FOR ON-LINE HONORS NOMINATIONS
All nominations should be done from this page, selecting from the categories in the menu on the left-hand side of the page.
---
ACADEMIC ALL-STATE NOMINATIONS
Effective IMMEDIATELY TGCA will no longer accept Academic All-State nominations with GPAs that have not been converted from a point scale (4.0) grade to a numerical scale only (94 or above). Staff cannot do the conversion and any nomination received with a point scale GPA will not be processed and will be sent back to the nominating coach for conversion to a numerical only GPA.
---